The Open Research Center for Minamata Studies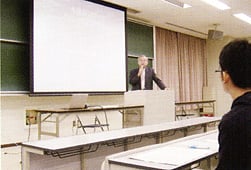 Lectures: Minamata Studies
Lectures on Minamata Studies were started in September 2002 as a formal study of Faculty of Social Welfare department (fall semester). Live classes can be seen on our website available only during the class.To Lecture on Minamata Studies
Releasing documents and materials to the public
The Center collects and houses materials such as books, literature, documents related to Minamata disease and Minamata Studies. Over 100,000 documents, images and other items related to Minamata disease have been received and catalogued.
Publishing research progress
Research meetings are held regularly in the campus, as well irregularly scheduled open seminars and symposiums. All of these meetings are open to the public.
The On-site Research Center for Minamata Studies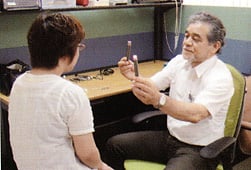 Health/ Medical/ Welfare Consultation
Consultations regarding health problems and livelihood issues are available for all the residents who have been affected by methyl mercury in the coastal area of the Shiranui Sea.
Days of consultation

the 2nd and 4th Tuesday every month
Prior reservation by phone/ fax/ e-mail is needed.

Hours

Phone 10:00 – 16:00, Tuesday through Friday
Fax 24 hours a day

Place for application

The On-site Research Center for Minamata Studies
TEL:0966-63-5030
FAX:0966-83-8883
Regional Strategy Platform
Information transmission, information sharing, mutual exchange, discussion, consensus forming and formation of the strategic plan are conducted.
Holding of open lectures and symposiums
The Center holds open lectures for local residents as well as symposiums and seminars, inviting domestic and foreign specialists or researchers with the aim of contributing to local society. Also, there is an annual meeting every January where researchers from around the country gather to discuss various aspects of the Minamata disease issue.To Open Lectures and Symposium
Young researchers' seminar
This seminar has been held annually for the young researchers of the next generation. The participants share the information their research related to the Minamata disease issue and have met together since 2011.
Hub for survey research and human resources developments
The Center is a hub for on-site research and survey of the Minamata disease damage areas, fostering researches in future generations here and abroad, and has accepted trainees.
Releasing documents and materials to public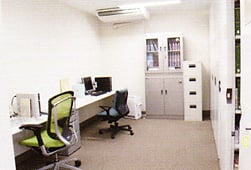 The documents and materials of the Shin Nihon Chisso Labor Union are accessible to anyone. Loan-out of these data is not available. Photocopies are available.
Opening hours

10:00~12:30、13:30~16:00 on Tuesday through Friday

Closed

Sunday, Monday, Saturday, holidays, May 30 (the anniversary of the University), the year-end through New Year holidays and the summer holidays stated in the regulation